Immigration to Australia, residence permit, employment
You have probably read a couple of articles about employment in the magnificent Australian continent and have come across a bunch of difficult terms and complicated requirements set for immigrants, who want to reach the social and economic level of Australian citizens. Give us a little time and we will prove that your desires, just like those of other clients of our competent organization, are not so difficult to fulfil.
Professional immigration to Australia
There are two immigration programs available for you.
Skilled Independent immigration to Australia is one of them. Note that the 'skilled' component is a key characteristic, which means that immigrant's education and professionalism are of essence. Australia is a promising country in need of high-qualified specialists. On this basis a Skilled Occupations List (SOL) was developed to enumerate the occupations in demand. Every immigrant willing to work and subsequently get a residence permit in Australia has to pass a seemingly complicated selection procedure. Yet there is nothing our specialists can't do. Everything depends on your determination and our capabilities. Of course, an applicant should have a high-level specialty occupation, which is proved directly by one's work experience, reference letters from employers and knowledge received in a higher educational establishment.
Job in Australia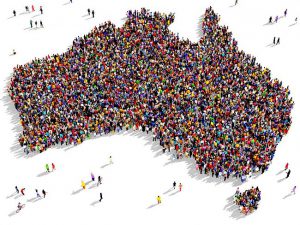 In order to get a job in Australia, it is important to speak sufficient English. Your knowledge should be at least at the conversational level in order to communicate with Australian citizens in all life situations.
The immigrant's age is of importance for the state economy; therefore, the association set a 45-year-old age limit.
Based on the above norms set by the Australian professional association, a corresponding score chart has been developed. A commission will evaluate your qualification and importance for social and economic environment of the country using certain criteria. A decision made concerning your value for the country might influence your employment in Australia.
Having received a positive result from the professional association, you will be issued a certificate to prove completion of the procedure. The certificate along with other required documents have to be attached to your Immigration Visa Petition.
After all the bureaucracy levels have been completed and a certain amount of funds spent, you will get your visa for Skilled Independent immigration to Australia, and this warm continent will amaze you with its diversity in all life areas.
Independent regional visa as a form of employment in Australia
There is also a similar immigration program called Skilled Independent Regional (Provisional) visa. The requirements are the same as set by the Australian professional association for Skilled Independent immigration. However, there are some peculiarities:
Your occupation (see SOL List) should qualify for 60 or 50 points for high-level skills, provided that you received a PhD in Australia.
Before applying, you have to procure sponsor aid from a competent state or local organization.
The "provisional" characteristic is explained as follows: a person assigned a sufficient score for a Skilled Independent Regional (Provisional) visa (which is not enough for other visa types) receives a temporary visa for 3 years, which also contributes to employment in Australia. Also, there is a limitation as regards the place of residence allowed for provisional visa holders: they can live in any region or metropolis of the country with a low rate of population increase, except of Sydney, Wollongong, Newcastle, Central Coast NSW, Gold Coast, Brisbane, Melbourne, Perth and AKTE.
Let us summarize what we have already said about the two Australian immigration programmes. They are similar to Canadian ones but for a number of considerable advantages. The requirements to Australian immigrants are more lenient. One of the main differences is that you are not required to transfer money to an Australian bank account in order to prove your financial state, which renders the program affordable without considerable funds. What also makes the program attractive is that Australia has the second best quality of life in the world (for comparison: the USA is fifth and Canada is eighth). Also, the immigration process in Australia takes only 6-12 months (compared to up to 3 years in the Canadian program).