United Kingdom – Tier 4 Student Visa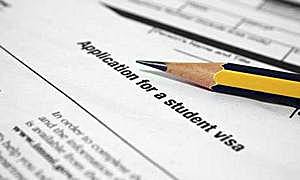 Tier 4 student visa is a chance for students from all over the world to get quality education from UK establishments. Starting from 12 Aug 2010, its application conditions have changed requiring from students over 16 planning to enroll in undergraduate programs (except of foundation degree courses and language schools) to pass an English test.
A required language score is automatically assigned to those applicants who have studied in the UK under a (child) student immigration category (within 2 years before application) or lived in the UK before reaching the legal age under the rules that were in effect until 31 March 2009, as well as to those who speak English as their native state language.
A student visa applicant has to pass English test demonstrating B1 (or IELTS 4.0) level of knowledge in all four areas:
listening,
reading,
grammar,
vocabulary.
Also, a potential student has to score 40 points under a number of immigration criteria, such as possession of funds to cover tuition and stay in the UK (10 points). An immigrant has to provide financial evidence to prove that the amount on his or her bank account will cover the expenses of the first year of studying. For London educational establishments, the required amount is GBP 1020 a month, for other cities it goes down to GBP 820 a month.
It is required to have the total tuition available (as proved by a bank institution) 28 days before application.
Another 30 points are assigned if a student is enrolled in a British institution holding a sponsor license (three categories: Highly Trusted, A (trusted), B (sponsor)), as only Home Office's Registry of Sponsors organizations can issue Confirmations of Acceptance for Studies (CAS) to their students.
UK government has an extremely strict policy as regards issuing of state documents and controls fulfilment of every requirement, which is the case with Confirmation of Acceptance for Studies certificate. The issuing institution will report to the Visa Bureau about every student holding this license in case if he or she fails to register for a course and to begin the studies, misses more than 10 mandatory events such as lectures and seminars, transforms the immigration status or violates UK immigration rules.
Practical courses that include working practice are allowed for enrolment only in organizations holding a Highly Trusted Sponsor license. A student can start the course by obtaining the foundation or a higher degree. The practice shall not take more than 50% of the total study time.
Student visas offer a limited working permit: 20 hours per week for foundation and higher level students and 10 hours per week for undergraduate and language courses with a full working day allowed during holidays.
A person immigrating under a student visa, who has been registered for a long-term course in a higher educational establishment, is entitled to bring his or her spouse and kids. For every supported person, the applicant shall provide GBP 615 per month (to be proved by a statement of the applicant's bank account) if the course takes place in London or GBP 460 per month if the studies take place in another city.